Chiropractor Hillsboro OH
Welcome to True Life Chiropractic located at 599 Harry Sauner Rd #C in Hillsboro, OH. It is our mission at True Life Chiropractic to be the best chiropractic office to restore our community members' health through specific, neurologically based chiropractic care. We are committed to helping individuals and family members live free from the fear of sickness & disease by working with the God-given healing power that comes from the inside out. Please don't hesitate to contact our Hillsboro OH chiropractors with any further questions you have. We are here to help you achieve your goals.
We are a family-based chiropractic office aimed at providing natural healing for you and your children. Drs. Ashley and Austin Trueblood both specialize in pediatric and prenatal chiropractic care. We want our children to have the best start to life. Chiropractic has been shown to significantly help not only to relieve pain and irritation in small children and infants but to help the nervous system flourish and grow.
The care you choose to give your child is one of the most important choices you can make as a parent. Contact us today with any questions!
Your Healthcare Goals. Our Team.
How can chiropractic care help you?
The benefits that chiropractors provide can be seen in a variety of health conditions. Even relatively healthy people can see improvements. Most of us put our bodies through a lot. Regular adjustments can help to restore balance within the body.
Your spine is designed to protect your spinal cord. Your spinal cord is responsible for moving information from your brain to the rest of your body. Your spine is the protective case for one of the most important parts of your body, and a Hillsboro OH chiropractor can help you maintain it.
FROM PREGNANCY TO PEDIATRICS
Achieving optimum results through care and compassion.
We provide safe, controlled and gentle care for all ages.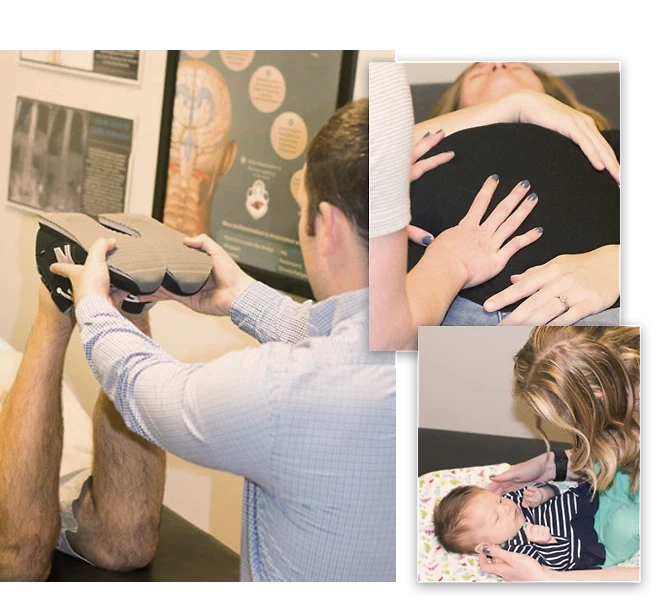 Technique
Torque Release Technique involves using The Integrator, a torque and recoil release adjusting instrument which automatically discharges when a predetermined contact pressure is reached. Through the specific analysis, Drs. Austin and Ashley can identify where there is any nerve interference down to the exact vertebral level. They then administer very gentle, specific chiropractic adjustments to realign the spine and remove the interference. This specificity leads to better results and longer-lasting effects.
"Torque Release Technique is based upon what (the founders of chiropractic) Drs. D.D. and B.J. Palmer intended – that we have innate and genetic potential and that the subluxation interferes with this expression. TRT is a tonal technique based on constant never ending improvement."
Matthew McCoy, D.C.
Director of Research Life University, Chief Editor of Journal of Vertebral Subluxation Research;
VP of Council of Chiropractic Practice
Technology
At True Life Chiropractic, Drs. Austin and Ashley use state-of-the-art technology in assessing practice members to get an exact location of the cause of their health problems.
The Space Foundation-certified Insight Millennium Technology establishes a reliable, scientifically valid, quantitative, multidimensional representation of the person's condition – something never before possible.
This is significant on many levels. It enables Drs. Austin and Ashley to analyze a person's condition more accurately, communicate findings more effectively– while allowing both Drs. Austin and Ashley and the practice member to track the effectiveness of their care at True Life Chiropractic.
Book
Drs. Austin and Ashley would love to speak at your workplace, home and church about specific, scientific chiropractic care. We provide Community Health Workshops, Health Screenings, Home and Church Sharing health. The objective is to empower all those in our community with information to make informed decisions about their health and make a proactive shift towards a healthier lifestyle and future. They are located in Highland County, OH.